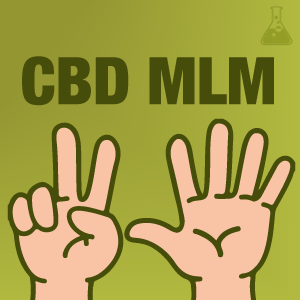 Are you looking for a way to spread the wonders of CBD oil and make money at the same time?
CBD multi-level marketing has many benefits for the entrepreneurial hemp enthusiast.
So your first question is probably how much money can one really make?
The answer is… a lot.
The market for hemp oil and related products is huge.
Sales revenue measures in the hundreds of millions, on its way to a billion.
It's predicted by experts to grow 700% by the year 2020 (you probably want to let that sink in for just a second).
The market is young and fresh, a perfect place for a hungry entrepreneur to start a business.
If you're not yet convinced, here are 7 reasons to take this opportunity seriously.
1. The Huge Demand for Good CBD Oil
CBD hemp oil has become very popular very quickly.
As laws change for the better and more medical benefits related to the cannabis plant are discovered, more people seek out this incredible oil that offers people the option to use cannabis to get healthy, not high with CBD oil.
There are so many uses for CBD oil.
Beyond the many medicinal uses, it's gaining popularity as a nutritional supplement.
Business depends on repeat customers.
As a distributor for a multi-level marketing business, you get paid when people consume.
Your money flow depends on how easy the product is to sell.
That's why CBD multi-level marketing is such a great business idea.
The key is finding a company that adheres to both National and State legal regulations (so you or anyone you sign up is not in "hot water" legally), is a high-quality CBD product and has the proof to back it up with 3rd party independent lab testing, and the company needs to have a solid foundation with personnel and financing.
Overall, CBD oil is a great product to be selling via an MLM, it's just a matter of finding the best products and company that you can stand behind with confidence.
2. Lower Risk Opportunity
There's always an element of risk involved in entrepreneurial aspirations.
MLM often gets a bad reputation, but the truth is, the MLM business model is proven.
There are well know, very well established MLM companies that have been around for decades.
Starting any kind of business can result in failure if you don't have realistic expectations of the time, money and energy required to make it work.
It takes time, strategy and hard work to make any business profitable, MLM is no different.
Building a successful business requires a financial investment as well.
So if you're planning on getting involved with an MLM business thinking it could be a get rich quick solution, you'll want to find another vehicle, because that is not what MLM is.
At the end of the day, having a CBD MLM business is a beautiful thing.
Why?
Well, MLM is known as a business you build "belly-to-belly" talking to people and networking.
Right now in the world of CBD and cannabis, there is a lot of re-education happening due to the lies and misconceptions that have been spread about the cannabis plant for the last 100+ years.
As a CBD MLM business owner, this is a great opportunity to get a conversation going and start educating people about the truth.
There's no need to fear MLM, it's just a business model! It's what you choose to do with it that will make the biggest difference in your path to success.
In reality, CBD multi-level marketing is a low-risk business.
The startup cost is tiny, especially when you compare starting other styles of cannabis businesses.
Also, it's easy to start the conversation with people about this topic and get them interested to try products and recruit more distributors.
We are living through the 'green wave' and the likely prohibition of cannabis.
This momentum is not slowing down, it's speeding up.
Lastly, remember, it takes less commitment than starting your own traditional business.
But you gain the same advantages.
3. The Income Potential
This isn't a mere job. You don't have a salary.
There's no cap on the amount of money you can earn. And there's no minimum of hours you need to put in each day.
Compare this to a regular job, where your income is limited to a business standard no matter how hard you work.
With CBD multi-level marketing, you can make as much money as you want.
And you do so at your own pace.
There's nobody there to hold you back.
It's your time, your energy, and your income.
But that's not the only big advantage.
Let's look at another one.
Passive Income
If you're wondering what this means, let's look at some examples.
You pay your bills on a regular basis.
The services you pay for are already established, the person you're paying, the business owner doesn't need to work every day to collect that from you.
Movies are another good example.
Every time you buy a movie ticket or a DVD, the producers and actors earn money.
They completed the work once, and money keeps trickling in long after it's done.
People who work this way could be sitting around in their underwear right now, making big bucks while taking it easy.
Once you establish yourself with repeat customers and referred distributors, you'll have a stream of passive income.
The more you expand your reach, the bigger this stream grows.
4. Portability
Multi-level marketing has a long-standing reputation as a lightweight and portable business model.
Modern technology and deregulation have made it even more so.
You can do now what a distributor 15 years ago couldn't even dream of.
You can do most of the work from your smartphone and essentially build a completely virtual business, if that's something you're interested in!
Let's look closer at some other major portability factors.
No Employees
To run a traditional business in this manner, you'd need a workforce.
And you'd need somewhere to host them, not to mention training and equipment.
Don't forget, you'd also have to pay them.
Multi-level marketing is a network of independent entrepreneurs.
You can attain the benefits of a workforce, without having to hire anyone.
This is the main factor that lets you build your business from home.
You don't need your own workforce.
You'll be working at a distance with driven entrepreneurs, all working toward the same goal.
Selling your product.
No Big Inventory
Multi-level marketers and independent salesmen used to stockpile merchandise in hopes of making sales.
This used to be a necessity, and it's where many of the negative stereotypes come from.
The need to keep or stock your own inventory is rarely the case these days.
The skeptics operate on outdated information.
Things are different nowadays.
With modern affiliate marketing, drop shipping capabilities, and produce-on-demand services, the world of independent sales got a major makeover.
Your customers can buy from you and the parent company keeps and stores all of the product.
You don't need to stock product anymore, you'll just need to direct people to your digital storefront.
This doesn't just make it easier to work from home.
You can even run a successful CBD multi-level marketing project while traveling.
You can even do it while working another job.
5. Low Operating Costs
This business model allows you to run a business at a very low operating cost.
There's no big startup investment or business loans needed like you typically see with a traditional business.
You don't need an office, a workshop, a warehouse, nor a workforce.
All of those things make traditional companies expensive to run.
Multi-level marketing is a different story altogether.
You buy a starter pack for a small fee, this allows you to experience and share the products and just like that, your business is up and running.
What other costs will you encounter as an independent hemp oil merchant?
Well, you may want to invest in sales training or mentoring.
You'll also need to be a customer of the products your selling. But that's pretty much it.
6. Networking
CBD multi-level marketing is a people business.
This is itself a multi-faceted benefit.
Every acquaintance is a potential customer.
Every sale is an opportunity to recruit a distributor.
As your network grows, you'll be exposed to more ideas. More tips for making sales and recruiting.
More complementary business ideas and potential business partners.
All the while your people skills are improving.
You learn marketing, build character, discipline, leadership, and various social skills as you work.
You learn to lead and facilitate win-win situations.
This has ripple effects on your social life outside of work too.
And as your network expands, it's likely that you'll find your circle of friends also expands.
7. The Potential for Freedom
For many people, this is the biggest advantage.
Often, time freedom is more important than the money.
Imagine having a productive workday by working at your own pace, in your chosen location and outfit.
You're not locked into an income bracket.
When you reach success, you can make a regular amount of money while working less.
Or you can work even harder and make even more. It's up to you.
When you establish yourself as a strong independent hemp oil entrepreneur, you can have a very fulfilling life.
The kind of life you may have thought was only for the rich and famous.
If you polish your marketing skills, you can live that dream.
Get Started with CBD Multi-Level Marketing
As you can see, CBD Multi-Level Marketing a booming business.
There's a big and continuously expanding pool of potential customers.
Many people want in on this business but don't know where to start.
You can be set up, selling and recruiting as much as you want in no time.
It takes a minimal financial investment to get started.
It will require grit, determination, and discipline.
You can work at your own pace and location of choice, setting your own times.
You'll have more freedom, and there's no limit on how much money you can make.
If you're interested in learning more about the Hemp Boom, download this Free Hemp Oil Industry Report today!
________________________________
Ready to get started with your own Hemp CBD Multi-Level Marketing Company? We help driven individuals become successful hemp oil entrepreneurs by helping them build the passive residual income of their desires by simply sharing the Benefits of CBD Hemp Oil.