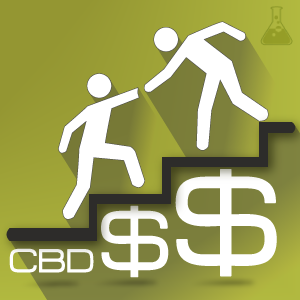 The CBD hemp oil business is booming.
It's time to get on board.
Want to be your own boss while making a difference in the world?
Keep reading!
Would you like to make extra money, potentially a lot?
Of course you would!
We all do!
Would you like to be your own boss, set your own hours, and reap the rewards?
Who wouldn't!?
Do you enjoy helping others, which can be a reward all on its own?
What if you were compensated while helping people live a better life?
What if you could do all of this, providing a beneficial health product that helps millions of people, and rake in the money all at the same time?
That is exactly what you can do by getting into the exponentially growing CBD Hemp Oil business!
When you offer people a natural product that could help them feel better – the money bucket will automatically fill up.
Look at it like compensation being the by-product of promoting and selling a quality, pharmaceutical grade product – that helps people achieve their personal health goals.
What is CBD?
Most people are familiar, in some fashion, with THC.
THC is the psychoactive ingredient found in the marijuana plant.
It's the thing that gets people high.
Did you know there is another ingredient within the plant, which doesn't get you high, and has major health benefits to boot?
That ingredient is CBD, or Cannabidiol, and is very rapidly becoming the focus of interest in both medical research and sales.
Particularly in the CBD Hemp Oil business.
Studies worldwide are being conducted, with the US finally beginning to catch up, and the wide-ranging benefits of CBD are finally coming to light.
Where Does CBD Come From?
As mentioned, the cannabis plant (typically known as marijuana) is one source of CBD.
Marijuana also contains high levels of THC, and under Federal law is an illegal Schedule I drug.
As of the writing of this article, 26 states have legalized marijuana in some form.
Unfortunately, that leaves 24 states where marijuana is still illegal.
It also remains illegal on a Federal level.
That means that marijuana-derived CBD is not as readily available as the other source for CBD extraction…hemp.
Hemp is a familiar cousin to the cannabis plant.
Unlike cannabis, hemp contains little to no THC.
It is most known for its use making fabrics and rope, among other things.
Products produced from industrial hemp are not classified as a drug and are legal to sell.
This is true for the CBD Hemp Oil business as well!
Hemp Oil, containing CBD, is classified by the FDA as a dietary supplement, making it widely available legally, including online.
For this reason, CBD Hemp Oil is easily obtained and available for distribution without the issues associated with cannabis-derived CBD products.
What Does CBD Do?
As one of over 109 compounds found within the cannabis plant, THC and CBD have the highest concentrations.
They are the most widely recognized and studied components of the plant.
High CBD (and low THC) strains of cannabis are becoming increasingly popular within the health and scientific communities.
CBD's highly beneficial properties in addition to having virtually no psychoactive effects have peaked interest, even within the Federal Government.
CBD Does NOT Get You High
"Bummer!" Not so quick…
The CB1 receptors in our brains are what react with THC to produce the commonly known intoxicating effects of cannabis.
CBD does not react with the body in the same manner and produces no psychotropic effects.
In 2011, a review was published stating that "Several studies suggest that CBD is non-toxic…and does not alter psychomotor or psychological functions."
It went on to say, "chronic use and high doses up to 1,500 mg/day of CBD are reportedly well tolerated in humans."
Why is this good, you ask?
The non-toxicity and non-high-inducing properties of CBD have allowed it to gain holding as a safe, effective health supplement.
One of the many reasons the CBD Hemp Oil business is booming!
Health Benefits of CBD
This is where the excitement is and the potential for making money helping people feel better.
Both THC and CBD have finally broken out and are being recognized for the immense potential health benefits they have.
Even CNN's highly respected Chief Medical Correspondent, Dr. Sanjay Goupta, has come around from his previous position against medical marijuana, saying…
"I am especially intrigued by studies…looking at the anti-cancer effects of marijuana and its components. I'm intrigued by the neuro-protective study…on whether the drug might help alleviate symptoms of PTSD. I promise to do my part to help…"
Much attention is being directed at the medical benefits of CBD oil in particular.
Because CBD has none of the psychoactive effects, it has a much wider acceptance among both the medical community and potential consumers.
Here are just a few of the potential areas CBD shows evidence of helping:
Alzheimer's
anorexia
anxiety
atherosclerosis
arthritis
cancer
colitis/Crohn's
depression
diabetes
epilepsy/seizure
fibromyalgia
glaucoma
irritable bowel
multiple sclerosis
neurodegeneration
obesity
osteoporosis
pain relief
Parkinson's
PTSD
schizophrenia
substance dependence/addiction
stroke/traumatic brain injury
Show Me the Money
With the rapidly spreading legalization of both medical and recreational cannabis, the profits are soaring.
You might be surprised to learn that this is the fastest growing industry in the United States.
You heard right, THE FASTEST! Recently even surpassing the wine and beer industries!
And the CBD Hemp Oil business is a big part of that.
Just between 2013 and 2014, the cannabis industry saw a 74% growth rate.
With more states legalizing every year, there is no end in sight for this new gold rush.
CEO of The ArcView Group, in their executive summary of their report titled "The State of Legal Marijuana Markets" said…
"At this point, it's hard to imagine that any serious businessperson who is paying attention hasn't spent some time thinking about the possibilities in this market."
The Oil Boom: The CBD Hemp Oil Business
When one thinks of the oil industry, one thinks of BIG MONEY.
It's no different in the new oil industry, CBD Hemp Oil.
Why CBD Hemp Oil?
While there are various products using CBD, there are several reasons that Hemp derived CBD Oil remain the best business opportunity:
Legal in all 50 states
Does not produce a "high"
Significant medical benefits
Medical and recreational cannabis remains illegal, both federally and in 24 states.
Many consumers, specifically for medicinal purposes, are looking to find an alternative.
They have found it in CBD Hemp Oil.
Take the case of B. Taylor Allbaugh, owner of Austin Vape and Smoke stores.
After introducing CBD Hemp Oil to his stores, they've seen "a drastic increase" in sales.
Even Big Pharma is getting into the game, and there are even predictions that CBD Oil could eclipse NFL Football in terms of earnings.
You heard right, BIGGER THAN NFL!
The CBD Hemp Oil business is exploding with demand, gaining in popularity, provides many needed health benefits, and is 100% legal.
Don't miss out!
Ride this wave of excitement and opportunity – get started selling CBD Hemp Oil today!