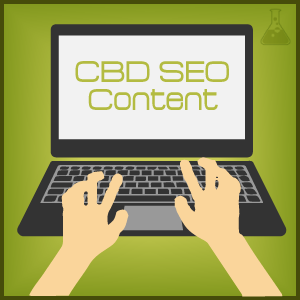 When you're promoting your CBD business website, SEO can make all the difference.
Having a custom CBD SEO content strategy will help drive more targeted traffic to your site, which will help you connect with your target market, present your offer and ultimately stick to your business plan.
But how do you do that?
How to Create a CBD SEO Content Strategy
If you're new to SEO, it can seem like a different language.
First, we better share what SEO means.
Who better to ask for a definition than Google:
SEO – Search engine optimization: the process of making your site better for search engines. Also the job title of a person who does this for a living: We just hired a new SEO to improve our presence on the web.
It's an ever-changing field, with Google using more than 200 ranking factors to decide who gets to the top of the Search Engine Results Page (SERP).
How can you use CBD keywords to get closer to the top of that list?
Here are some of the top tips you need to know!
Create High-Quality Content About CBD
Like any business, Google wants to please its customers.
To do so, the search engine must match customers with content that answers their questions.
Google's algorithm looks at things like spelling and grammar, the quality of sites that link to your website, and whether your post includes 'semantic' words that they would expect to see in a post about the subject.
For example, in a post about CBD oil, they would expect to see the words cannabis, hemp, THC, pain relief, etc.
If you write quality blog posts that talk about subjects that interest your customers, Google will send customers to your website.
Answer Questions About CBD
Have you ever typed a question into Google and seen a featured answer highlighted in a box?
This is another example of Google trying to help their customers find the information they are looking for.
If you research the sort of keywords CBD customers look for, you will see many that are questions.
Use these in your posts as an H2 heading and put your answer below.
Google may then choose your content to display on the SERP as a featured answer.
Be Specific
It can be hard to compete on some of the more general CBD SEO keywords because so many businesses compete for them.
Instead, look for keywords that have a smaller volume but meet your ideal customer.
Think local or specific to the needs of your ideal customer.
Google My Business For Local SEO Visibility
If you have a physical store, you need people to be able to find you.
Google has developed the 'Google my Business' (GMB) platform that is an extremely powerful tool for all businesses (but even more so for local businesses with a physical location).
First, GMB allows you to officially register your business with Google online, which is a big deal for your overall SEO results.
In addition, by optimizing your GMB listing, customers who are searching on Google using search terms that are CBD related are more apt to find your business.
Rather than having to fight for a place on the SERP, you are displayed on a map, letting potential customers know exactly where to find your store.
If you haven't already registered for Google my Business now is the time.
It's easy and free to do.
You're Not Alone
Coming up with a CBD SEO content strategy is only a small part of running your hemp oil business.
We know that it can feel daunting.
That's why we're here to support you every step of the way.
There's lots more information here on the blog, or you can check out these 9 CBD Marketing Strategies to Grow Your Cannabis Brand in a Big Way during the Hemp Boom!