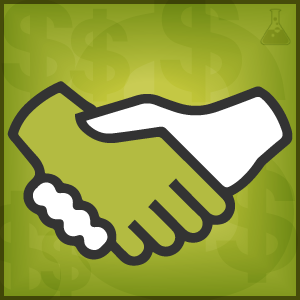 The affiliate marketing industry is worth $12 billion and is growing rapidly.
If you dream of making a living by creating content, affiliate marketing earns passive income while you do what you love.
But all affiliate marketers need a profitable niche.
If you're passionate about health, consider becoming an affiliate in the CBD niche.
Over a quarter of the U.S. population has tried CBD at least once.
CBD is a potent cannabinoid in the hemp plant and can help a myriad of physical and mental issues.
It's also a plant-based product and only comes with a few minor side effects.
(Click to see the most lucrative CBD affiliate program details here.)
Here's how you can profit from CBD affiliate programs.
Why Use Affiliate Marketing to Promote CBD
Affiliate marketing is becoming a common marketing strategy for CBD brands.
There are strict laws regarding the marketing of CBD products.
Even though CBD is legal in all 50 states, there are restrictions behind the claims that manufacturers can make and where you can and can't advertise.
This is where affiliate marketing comes in.
A CBD brand partners with a popular blogger.
The blogger writes a blog about a CBD topic and offers a discount code that readers can use toward the CBD brand.
The blogger receives a percentage of each sale whenever their discount code is used.
How much of a commission can you receive?
Commissions can range between 15% and 40%, depending on your agreement with the brand.
Keep in mind, you shouldn't partner with any CBD brand. You should conduct research to ensure they make high-quality CBD products.
The brand you work with must also be transparent and reliable.
How to Become a CBD Affiliate Marketer
Are you ready to promote CBD products?
Here are some ways you can grow your brand with CBD affiliate marketing.
Join a CBD Affiliate Marketing Program
When you first start out, you most likely won't have many connections and you may not know much about CBD.
Researching and joining a CBD affiliate marketing program will help introduce you to a myriad of CBD brands that need to connect to affiliates.
To help connect to brands and manage your affiliate campaigns, you'll be assigned an affiliate manager.
An affiliate manager will ensure you're profiting from the channel.
When you connect to brands, you will agree on a personalized coupon code and commission percentage.
The brand may also supply backlinks if they want to rank better in Google results.
From here, you create content and implement the code into your content.
(Click to see the most lucrative CBD affiliate program details here.)
Create Content
Creating affiliate content isn't as easy as it looks.
To profit from affiliate marketing, your content has to be powerful enough to convert readers.
There are some tricks of the trade you can learn early on.
It's helpful to create an article outline.
You'll map each header and what you'll write under each header.
You can also plan how to implement the coupon code and where it will appear in your article.
When you start writing, you want a fun tone to interest your audience but you'll also want to be informative.
Your readers will either be those interested in trying CBD or those who use CBD but are trying to discover new products or consumption methods.
You'll also want to write without fluff.
Fluff is any information that's useless or doesn't pertain to the topic.
To avoid fluff, research statistics or any facts to include in your content.
Once you get the hang of writing affiliate content, you'll want to post regular content.
Start with two blogs a month and increase the frequency to at least one post a week.
Other Tips to Keep in Mind
As you start writing, you'll learn a few more facts that will further improve your affiliate marketing efforts.
Here are a couple more tips to keep in mind.
Know Your Audience
As you start posting more blogs, you'll learn more about your readers.
But it's also helpful to look beyond your normal readers and research the current CBD market.
You can separate your readers' ages into two separate categories: millennials and boomers.
Millennials are interested in holistic and preventative health measures.
They may have subtle conditions they want to treat, such as pain and anxiety, but want to seek alternatives from prescription medications.
While many Gen Z-ers are too young, older Gen-Zers are following the interests of millennials and may use CBD for preventative measures.
Boomers are typically dealing with more serious medical issues — and are often looking to reduce medication and the crazy side-effects that come with so many medications today.
If CBD can at least target the symptoms they experience from these issues they are all in!
Boomers may try CBD for these conditions before settling on prescription medication or try them in an effort to replace current prescription medications.
Due to the unique nature of the demographics just discussed, your blogging program will need to account for content that speaks to each group individually so they can connect with your message.
(Click to see the most lucrative CBD affiliate program details here.)
Go Beyond Blogging
While blogging is a helpful format to improve CBD knowledge and share information, a talented affiliate marketer will go beyond blogging.
Improve your social media skills and start marketing your content and brands on social media.
Utilize affiliate marketing on Instagram, Facebook and Twitter.
Share educational information, facts, new laws or other interesting information that appeals to your target market.
You can post a picture of yourself with the product or just the product itself.
Include the product information and your coupon code to entice your followers to buy.
Offer a Range of Products
The CBD market is more diverse than ever.
While CBD oil tinctures are popular, many manufacturers are profiting from CBD edibles, skincare products, and a whole array of other CBD product options.
Implement these products into your content.
For example, you may write a blog post about taking CBD tinctures and promote the brand's CBD tincture.
You can also write another article about CBD and hemp benefits for the skin and promote a CBD skincare brand.

The Best CBD Affiliate Program
The team at Hemp Oil Business only recommends Organica Naturals CBD affiliate program for the following reasons:
Best affiliate commission structure available – commission structure starts at 25% and can increase up to 35% as your sales grow
Lifetime customer commissions – customers will be tracked under your for life so if they get recurring orders, you get recurring commissions
Three-tiered commission structure – earn 5% on all sales from affiliates you refer and 2% on affiliates they refer
Payments 2x per month – put more cash in your pocket by getting paid more often
45 day tracking cookie – if someone you refer doesn't make a purchase right away, you can still collect commissions after their initial visit
Real time tracking – see what's working best right now among all your campaigns so you know where to put your focus and attention
Dedicated affiliate manager support – to help you with tech issues, promo banners and materials, potentially even some custom website support
If you've got questions about Organica Naturals CBD affiliate program, contact their team here.
CBD is becoming a popular holistic healing method, so if you want to become an affiliate marketer in the health niche, CBD would be a very profitable affiliate marketing niche for you.
Joining CBD affiliate programs is an easy way to get started with very little investment or overhead.
So what are you waiting for?
Become an affiliate of Organica Naturals CBD right here.
Dedicated to helping you build your hempire!